See answers to a selection of frequently asked questions below.
Is the online application process the only way to apply for roles?
Yes, Aurrum only accepts applications through our online process. If you are having difficulty with the online form, please email us at
careers@aurrum.com.au
.
Can I apply for more than one position?
You are welcome to submit an application for any positions that are of interest. As the recruitment process for each position is managed separately, please submit an application for each opportunity for which you'd like to be considered.
What happens once my application is submitted?
After submitting your application online, it will be reviewed by the Aurrum team. If your qualifications and experience match our requirements, you will be contacted to discuss your application in more detail.
How do I set up a job alert?
If there are no suitable roles at the time that you search, you can create a job alert. This will notify you when a job becomes available that matches your search criteria.
In the 'job opportunities' section of the website, click on 'Register'.

I have forgotten my online applicant password. How do I reset my password?
Click on Log in
Your user name is your email address and select the 'forgotten your password?' link.
An email will be sent to you with instructions.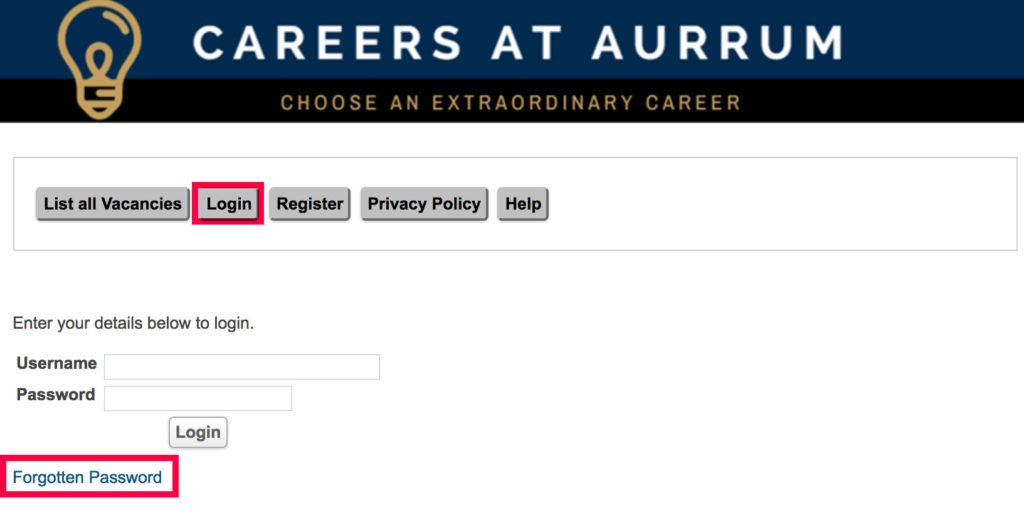 What type of education or work experience background do I need to work at Aurrum?
Aurrum look for candidates with a broad range of qualifications and work experience. We look for people who are passionate about caring for others and have relevant qualifications.
We also have corporate roles in Finance, HR, Marketing and other functions.
Does Aurrum have a graduate recruitment program?
We are currently developing a graduate nurse program and partnering with a number of Australian Universities.